10 Best Pop-Up Shops Of 2022
Over a few weekends, New Yorkers kicked off this beauty pop up by spinning a prize wheel and winning one of five prizes: a small, medium, or large swag bag, a discount card, or a cleanser duo.
After an educational talk and the opportunity to sample LANEIGE products from our hydration booth, you headed up the colorful staircase to the double-decker's rooftop floor for a focus on a different product, the Lip Sleeping Mask. 
To match the Lip Sleeping Mask aesthetic, the rooftop was designed in all pink and decorated with giant Lip Sleeping Mask props. Here, guests met with our brand ambassadors to hand in their ticket and receive their prize, branded candy, and product samples all in a LANEIGE gift-bag.
Our brand ambassadors were also available to snap cute photos of you and your group sitting on the lip-shaped couch in front of the candy wall backdrop! Once you enjoyed the sun and captured your pictures, you were guided back down the stairs to enjoy the rest of your weekend and your LANEIGE to-go.
MAËLYS's 'House of Bod' pop up took New York City by storm. The first step was wrapping and branding a food truck in 'MAËLYS-pink' and serving complimentary pink lemonade to match the aesthetic. 
While waiting in line, guests were handed scratch-offs for the chance to win free merch, full-size products, and up to $500 in ULTA Beauty gift-cards along with their free lemonade. Once you walked through the decorative archway, you had the opportunity to speak with MAËLYS ambassadors and sample an assortment of products, including the B-Flat, B-Tight, and B-Thicc creams.
Then, at the truck window, you redeemed your special prize and pink-lemonade! We topped off the MAËLYS fun by setting up a vanity wall for guests to opt into a lottery: all you had to do was snap a mirror-pic, tag #fortheloveofbod and @maelys_cosmetics, and post it to your story for the opportunity to win the ICONS bundle worth $199! 
For the release of "It Starts With Us," our team wanted to deliver a creative pop-up experience that paid respect to Hoover and her fans.
What we came up with was nothing short of a total recreation of Lily Bloom's flower shop at Rockefeller Center, turning Hoover's imagination from the book's prequel, "It Ends With Us," into something fans could see, touch, and feel.
This involved branding our vintage Citroen and installing a floral display with the same purple, yellow, and teal colors depicted in the book. As a nod the character's restaurant, we served hot chocolate and cookies designed with BIB's logo for added memorabilia.
Hundreds (and eventually thousands) of guests waited at the Lily Bloom flower truck for the opportunity to enjoy complimentary hot chocolate and Chip City Cookies, but more importantly, be the first to get their hands on hard copies of the book.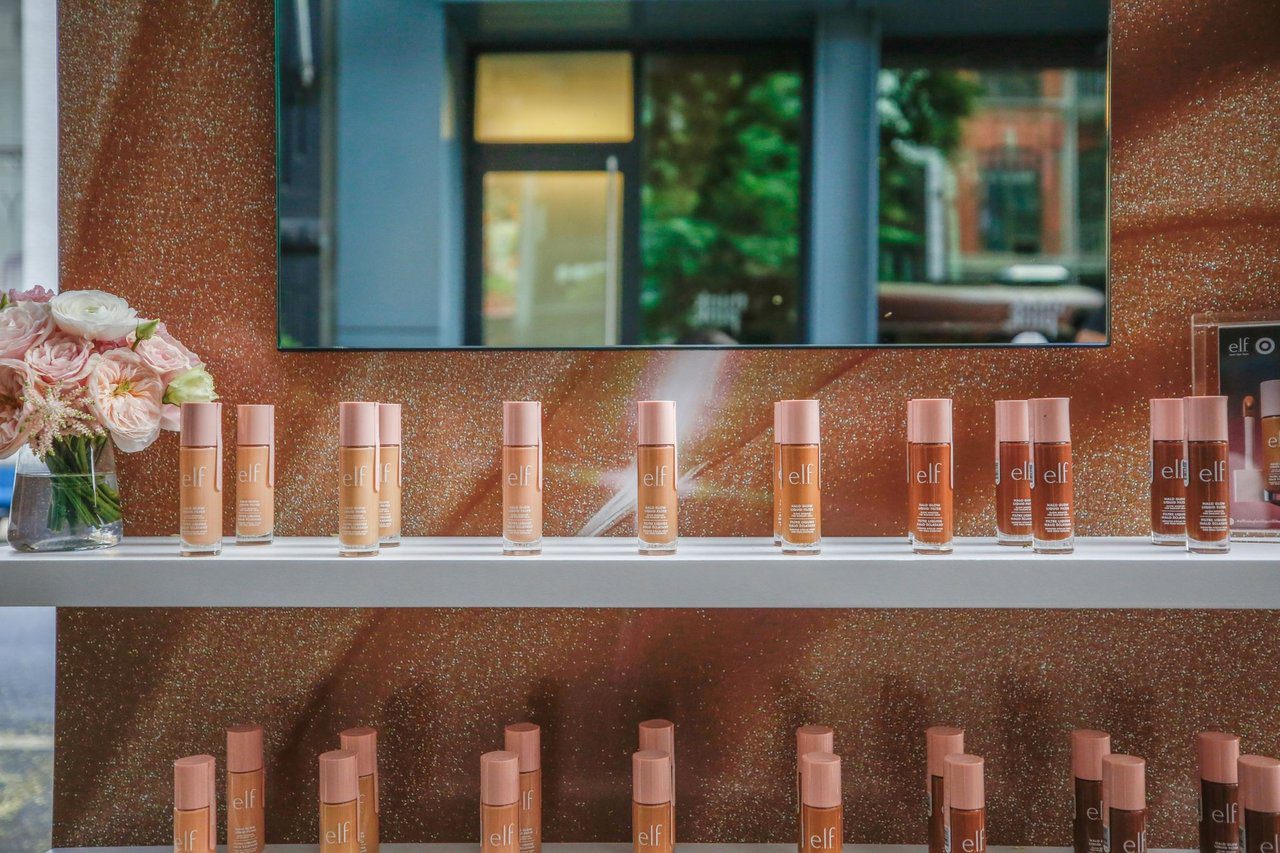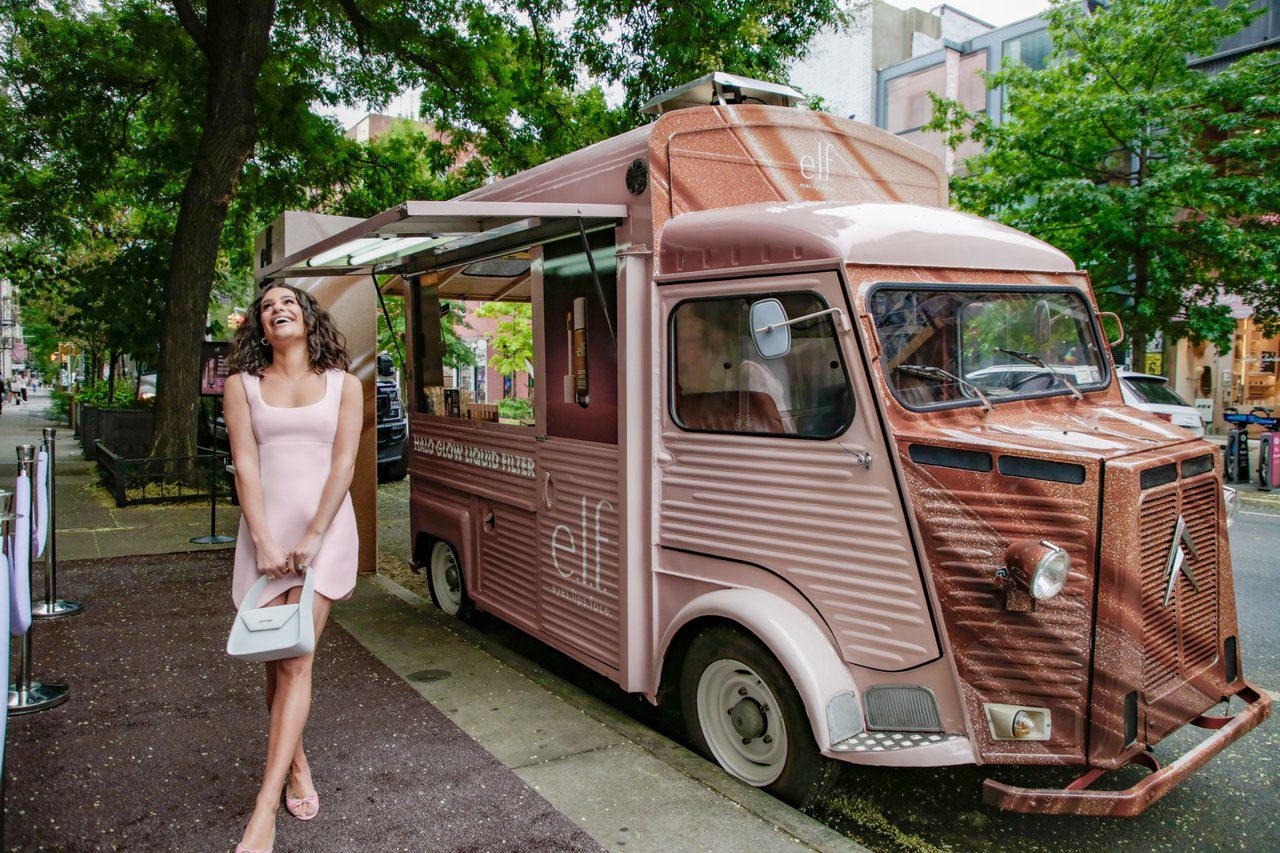 e.l.f Cosmetics partnered with our experiential marketing agency to promote their Halo Glow Liquid Filter in Soho, New York. Our team caught passerbyers' eyes with a stunning product display wall, along with stanchion ropes and carpet that led guests to a high-end e.l.f. vintage truck. From the truck window, guests had the opportunity to work with a beauty expert to select their shade and were also gifted makeup samples and popsicles to enjoy to-go. The event also included special appearance from Glee star Lea Michele which elevated the pop up experience just that much more!
This September, we teamed up with Tonka to promote their kid's brand in the most perfectly 'on-the-nose' way possible: by creating a life-sized replica of their toy trucks and parking it in Flat Iron, New York!

The bright yellow exterior of the Tonka truck already made it pretty hard to miss; especially with the promise of complimentary 'play-cation kits,' including a free toy truck, stickers, and more, it's no surprise we had parents and their kids lining up by the hundreds.

However, complimentary Tonka goodies weren't the only source of excitement for guests to feed off. The absolute cherry-on-top of this activation was giving guests the opportunity to meet basketball legend and pop-culture icon, Shaquille O'Neal!
Costa Brazil is an up-and-coming self-care and fragrance brand. Before their official store opening, the brand turned their soon-to-be-store into a dynamic pop up experience for an entire weekend in Soho. 
This experience included a branded cart on their street corner that offered complimentary coffee, bounce-back cards, and a quick perfume sample that ultimately encouraged people in-store for an even more immersive experience. 
Consumers took their coffee to-go and headed inside, where they were greeted by brand ambassadors with a special Costa Brazil bracelet, more extensive product samples, and even an opportunity for a massage using the brand's products! 
Bad Bunny is one of the most streamed artists in the world. Even with all the organic hype around Un Verano Sin Ti, the rapper's team knew they had to promote the album release in style. That's why they enlisted us to brand a food truck to match the album cover art and hand out complimentary 'helado' all over Chicago!
This experiential marketing activation proved to be the perfect way to honor the artist's new body of work and get listeners excited for the drop date.
We partnered with (MALIN+GOETZ) to bring New York's bodega culture across the country to Los Angeles via a deluxe food cart service.
Our MALIN + GOETZ cart hit Westfield Century City and Melrose Trading Post and handed out 1,000 soft pretzels along with 1,000 cups of coffee that left LA locals with the true New York experience!
After only two days, we're proud to say that this part of the brand's global campaign culminated in roughly a thousand new followers on Tik Tok and Instagram. It was so much fun to bring New York to LA, while more importantly getting MALIN + GOETZ noticed on the West Coast!
ShopRunner came to us wondering how to bring greater awareness around their service using the experiential approach. After getting to know more about their brand, we decided that Mother's Day was the perfect occasion to gain subscribers, coming up with the idea to #GiftMomBack by giving out free, branded flower bouquets via a limited-time pop up. 
What began with an idea to #GiftMomBack turned into a Mother's Day pop up with a massive line formed around the corner of Prince and Broadway in Soho, New York. People came and went over the span of three days, signing up for the ShopRunner app through a QR code and, in return, receiving their beautiful flower bouquets from one of our brand ambassadors. From photo-ops to special moments between friends and family, this turned out to be an experience that people will come to remember and cherish for years.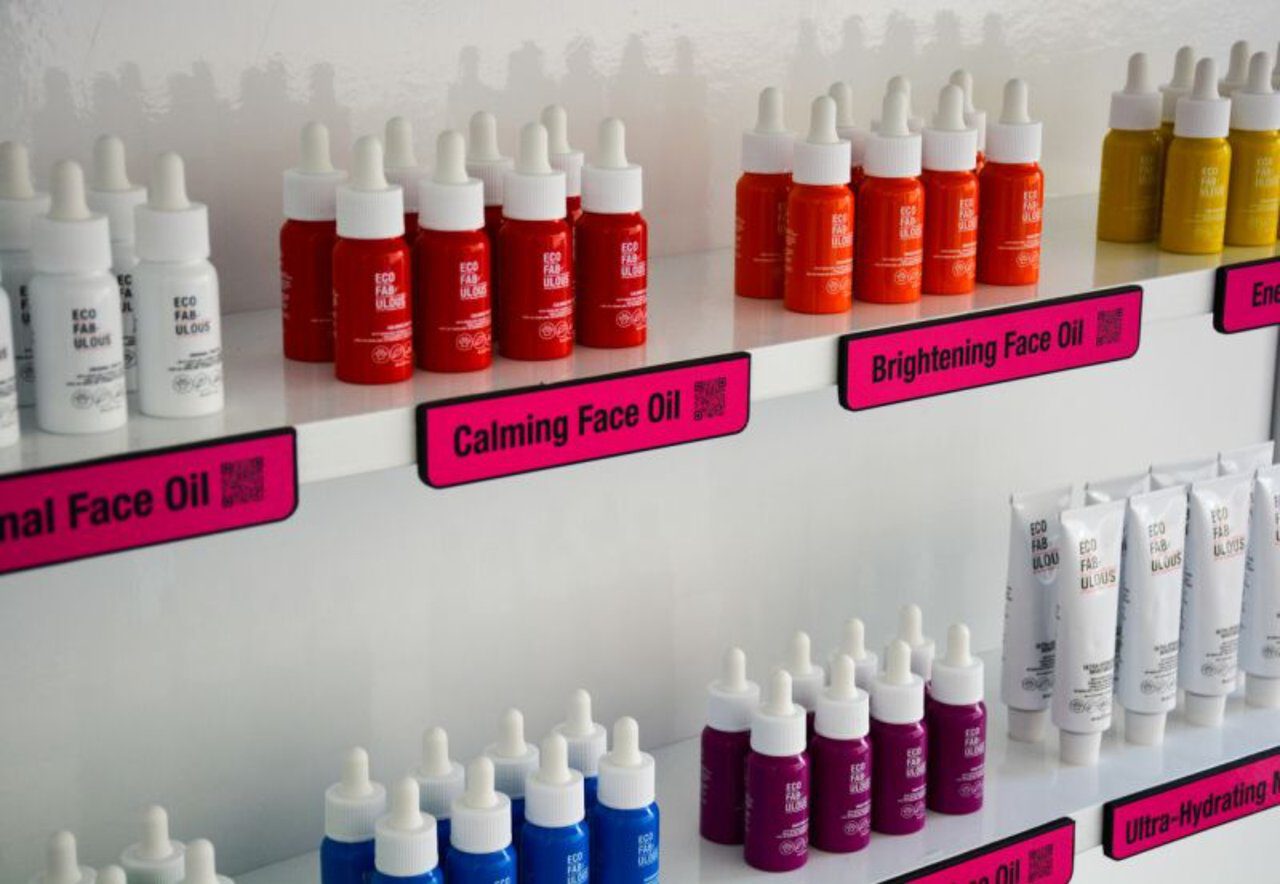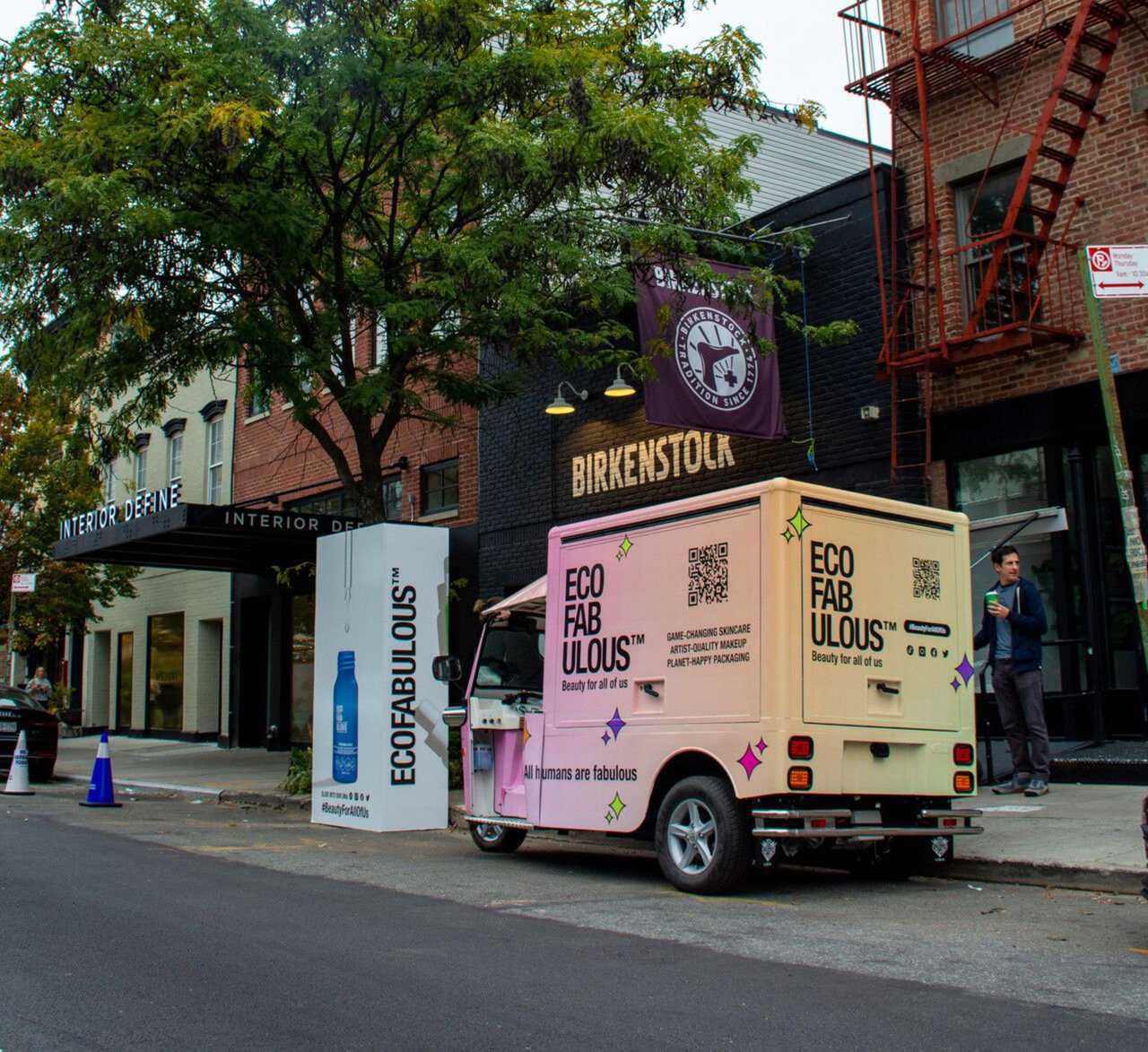 Say hello to EcoFabulous!
In 2022, Amyris's new skin-care brand debuted their collection of environmentally conscious products, espousing "beauty for all of us, and for a better planet."
To honor EcoFabulous's commitment to sustainability, we offered the brand the opportunity to host their launch from our electrically charged tuk-tuk in three New York locations: Noho, Union Square, and Williamsburg.
Our guests enjoyed a promotional video, received a tote-bag of product samples, and were offered complimentary jars of rainbow cake by JARS by Dani. They could also enjoy a photo-moment or spin a wheel to win a variety of prizes like reusable straws, reusable bags, squeeze keys, gift cards, product samples, or a whole set of face oils!
To top the pop-up off, Disney Channel star and celebrity Skai Jackson made an appearance to educate people about the products!
This year, Food Truck Promotions partnered with over 50 companies to produce the very best pop-up shops of 2022, all over the United States and even abroad. After looking more closely at 10 of our absolute favorite projects from this past year, we're so excited for the brand activations that 2023 will hold!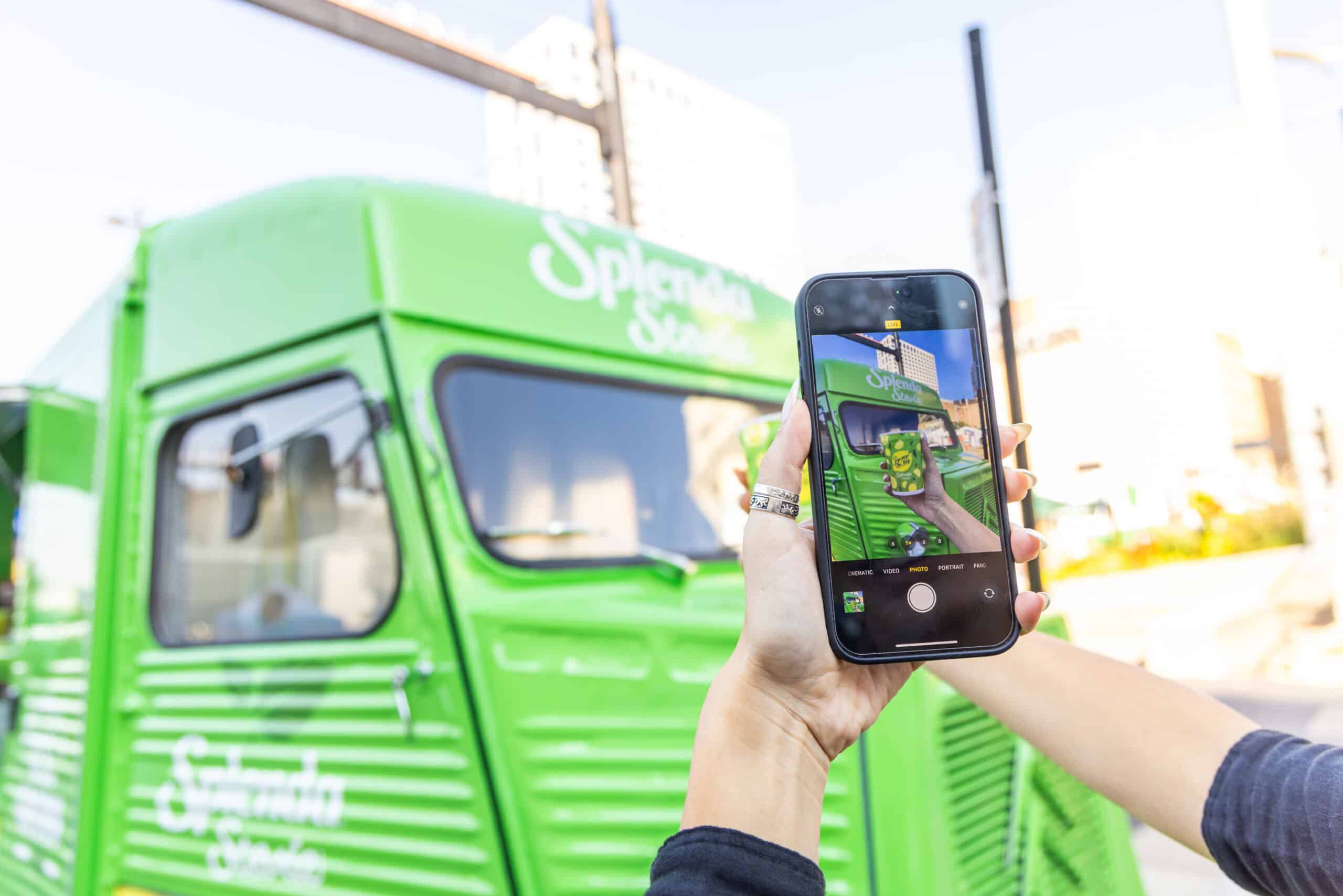 Why UGC is a Key to Successful Modern Marketing If you are interested in modern marketing, you already know that the advertising world has dramatically
READ MORE »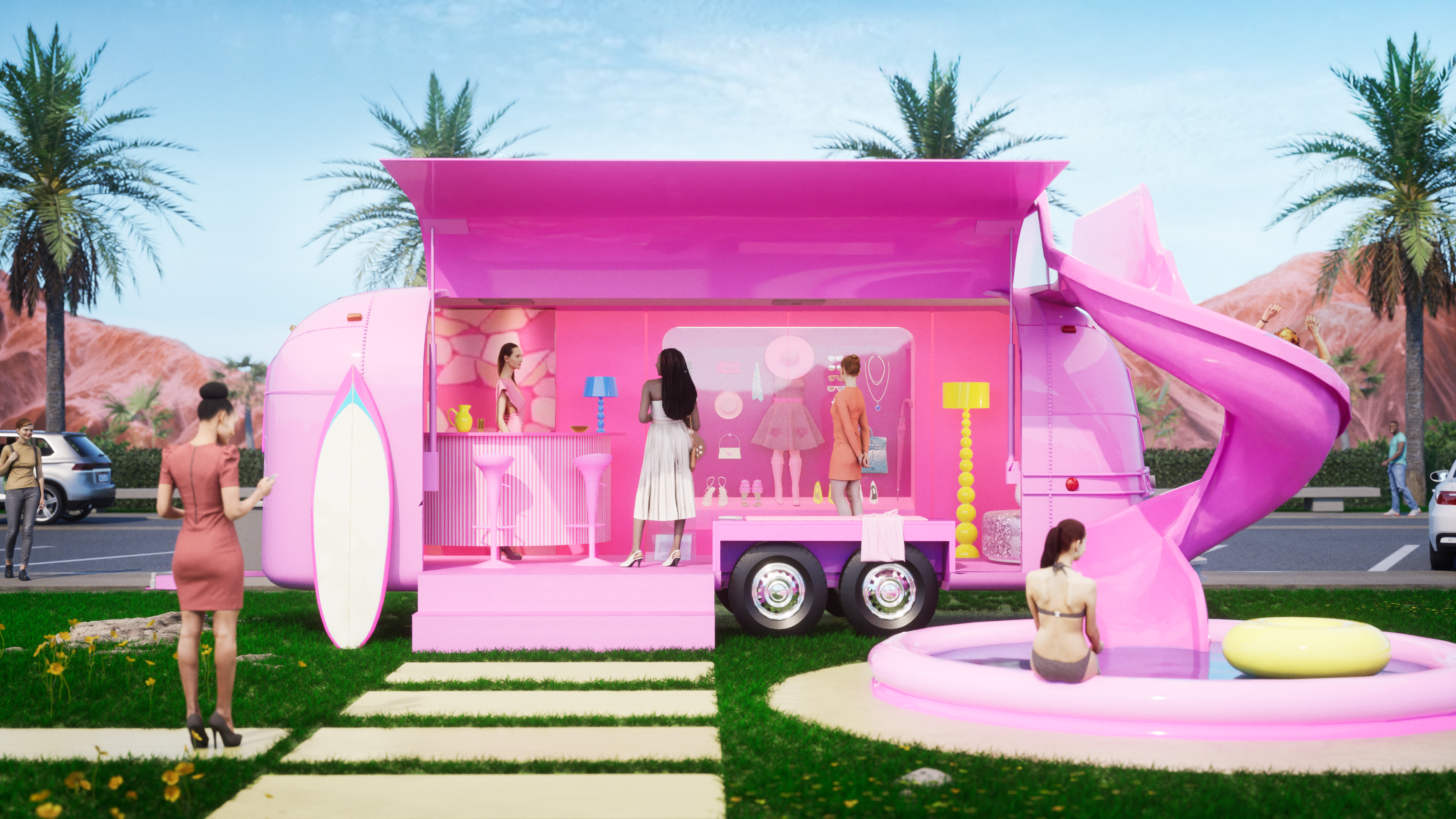 There's no doubt about it — Barbie is back. Everyone's favorite childhood dream girl is hitting the big screen on July 21, and the hype
READ MORE »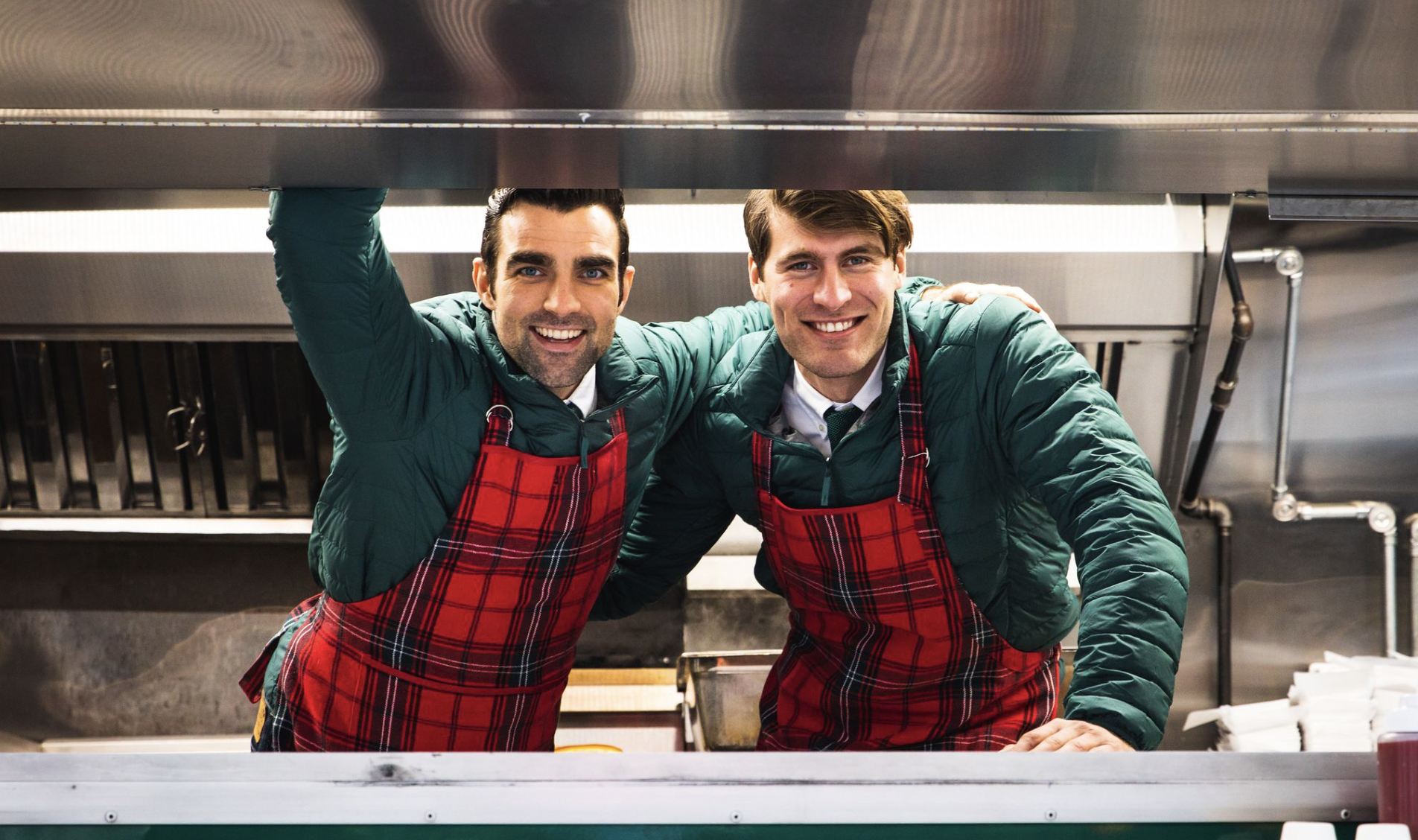 CONTENTS Move over, moms— it's time for Dads to take the spotlight. This Father's Day, don't miss out on the opportunity to boost your sales
READ MORE »