If you're a brand or marketer with lofty goals but a small budget, guerrilla marketing is enticing. Why? Because it's a low investment, high impact strategy. The best guerrilla marketing strategy is big on ideas and low on expenses. But that requires sticking the landing, and that's no easy feat. You want consumers to notice you but for the right reasons. Thankfully, that's easy. All it takes is thinking like your audience— something you spend a lot of time doing already— and captivating them in a way aligning with what excites them.  
Still interested? Let's look at tips that'll help you create and optimize a guerrilla marketing strategy that'll launch an epic campaign.
The Art of Guerrilla Marketing
In 1984, advertising executive Jay Conrad Levinson penned the first edition of his pioneering book, "Guerrilla Marketing."
The essence of Levinson's book is simple: "guerrilla marketing is the art of getting consumers to pay attention through brute force of a vivid imagination."
It's crucial to remember that consumers are bombarded with hundreds, if not thousands, of media messages on a given day. The best kind of guerrilla marketing strategy is rooted firmly in resourcefulness and ingenuity that goes further than just throwing money at an idea.
Tip #1: Go Against The Grain
When developing a guerrilla marketing strategy, the simplest way to separate your business from its competitors is sometimes going in the opposite direction of what they're doing. So, when they "go left," you "go right." 
What does that mean? Here's an example: In the feel-good era of body positivity, Dutch fitness company Fitness First launched a direct— albeit risky— guerrilla marketing campaign that flew in its face. The campaign saw commuters sitting on a bus stop bench showing their weight. 
Was it confrontational? Perhaps. Would it cause a backlash if executed elsewhere, say in the U.S.? Most likely. But did it make an impact that made headlines worldwide? Yes. 
When your brand takes a strong, contrarian stance, people are going to take notice. But before you commit, make sure you understand there's a high probability some will be turned off. Alternatively, others will be drawn into your campaign's boldness. If nothing else, it's a surefire way to turn heads.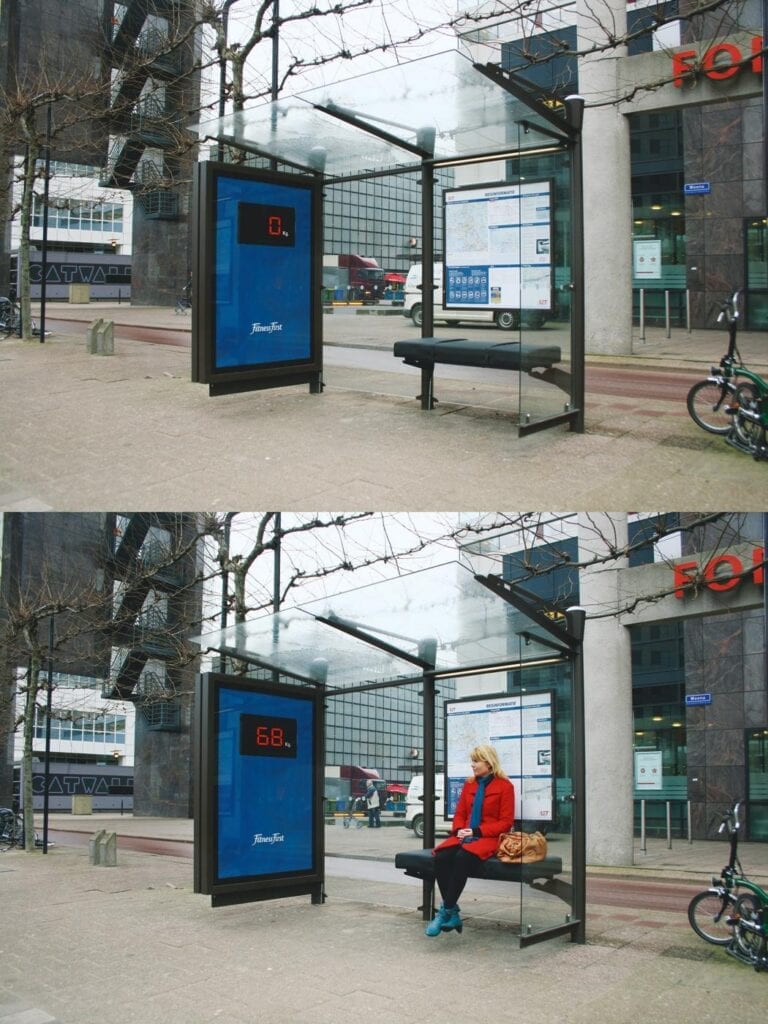 Tip #2: Hit the Streets
In the guerrilla marketing playbook, street team marketing is as old as marketing itself. With the outside world at your disposal, you have an outlet for— near— unlimited creativity. Plus, compared to other guerrilla marketing strategies, this one tends to generate immediate impact and a high chance of going viral on social media. Here's one strategy that paid dividends:
Bounty Cleans Up Life-Sized Messes
Bounty paper towels wanted to show consumers that its products can "make small work of big messes." Really big messes. In New York City, Bounty erected life-sized "messes," like a giant coffee cup knocked over and a melting popsicle. Not only did these visuals grab attention, but they were also photo-ops that had Bounty's logo and slogan front-and-center. And that guerrilla marketing strategy helped the brand be the background for social media selfies shared by millions.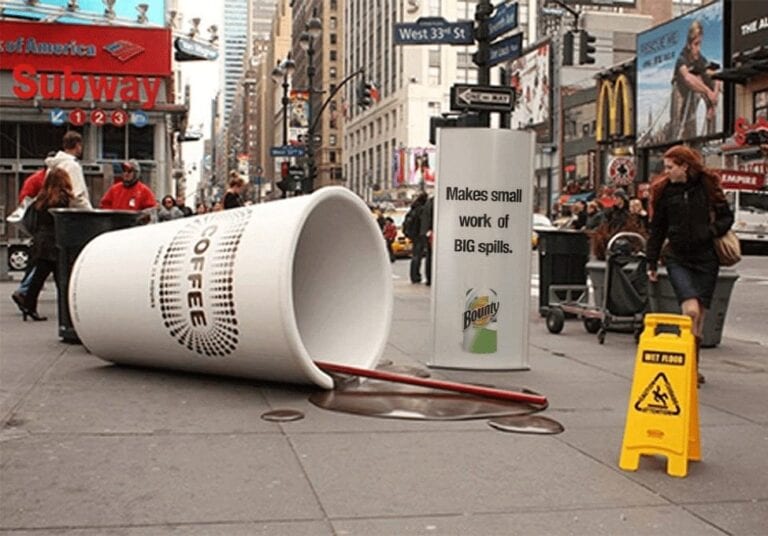 Tip #3: Disrupt the Space You're In
Guerrilla marketing gets a bad rap for being too aggressive and shocking people that can be jarring and— frankly— off-putting. But your brand can be the disruptor without disrupting people's lives. This is commonly referred to as "ambient marketing" and is about using physical space, opposed to who's in it. 
In other words, you are altering the atmosphere by inserting yourself in it. 
Take a look at this ad from Bic. A giant razor cutting through thick grass? Not something you'd expect to see. But this is a unique take for a well-known product that showcases its effectiveness in an unconventional space.
Bonus Tip: Leverage Your Loyal Fans
Marketing— any form of marketing really— requires polish and finesse. It takes a team of creative minds a lot of time and energy to execute successful campaigns. But did you know you aren't the only one who can generate content for your brand? Take a look at your customers because they're built-in marketers keenly aware of who you are, what you do, and why you're so great at it! Oh, and they're probably on social media, creating free PR for you with user-generated content. 
When you have fans active on social media and/or who can create visual content like images, videos, and designs, you have a marketing team that's at your fingertips. It just takes engaging and encouraging them to post and share. It's a guerrilla marketing strategy that's low risk and high-reward.
Fashion and beauty brands have leveraged content created by their loyal fan bases for years. By getting customers to post pictures in their clothes or wearing their makeup, companies make an echo chamber that's 1. Free and 2. Highly-effective.
The Best Guerrilla Marketing Strategy Is an Extension of Your Brand
Guerrilla marketing is both scrappy and strategic. But before you get started, you need to know what makes you stand out. The campaign is one component of your overall guerrilla marketing strategy that ultimately captures your core message. Ask yourself these questions:
What makes my brand different?

What do I do that my competition doesn't?

Are there misconceptions about my business?

How is my brand "breaking the rules"?

What does my target audience want, and how can I give it to them?
Guerrilla marketing surprises and delights. But make sure you give your audience something they crave that's beyond your brand, whether it's an experience using a food truck serving delicious eats or an experiential vehicle that's an eye-catching billboard to get your message seen and heard.   
Understanding yourself, knowing your audience, and the kind of impact you want to make (and why) are at the heart of achieving the results you want. With these handy tips, guerrilla marketing will help you experience marketing in the most fun and creative way possible and drive your brand's success.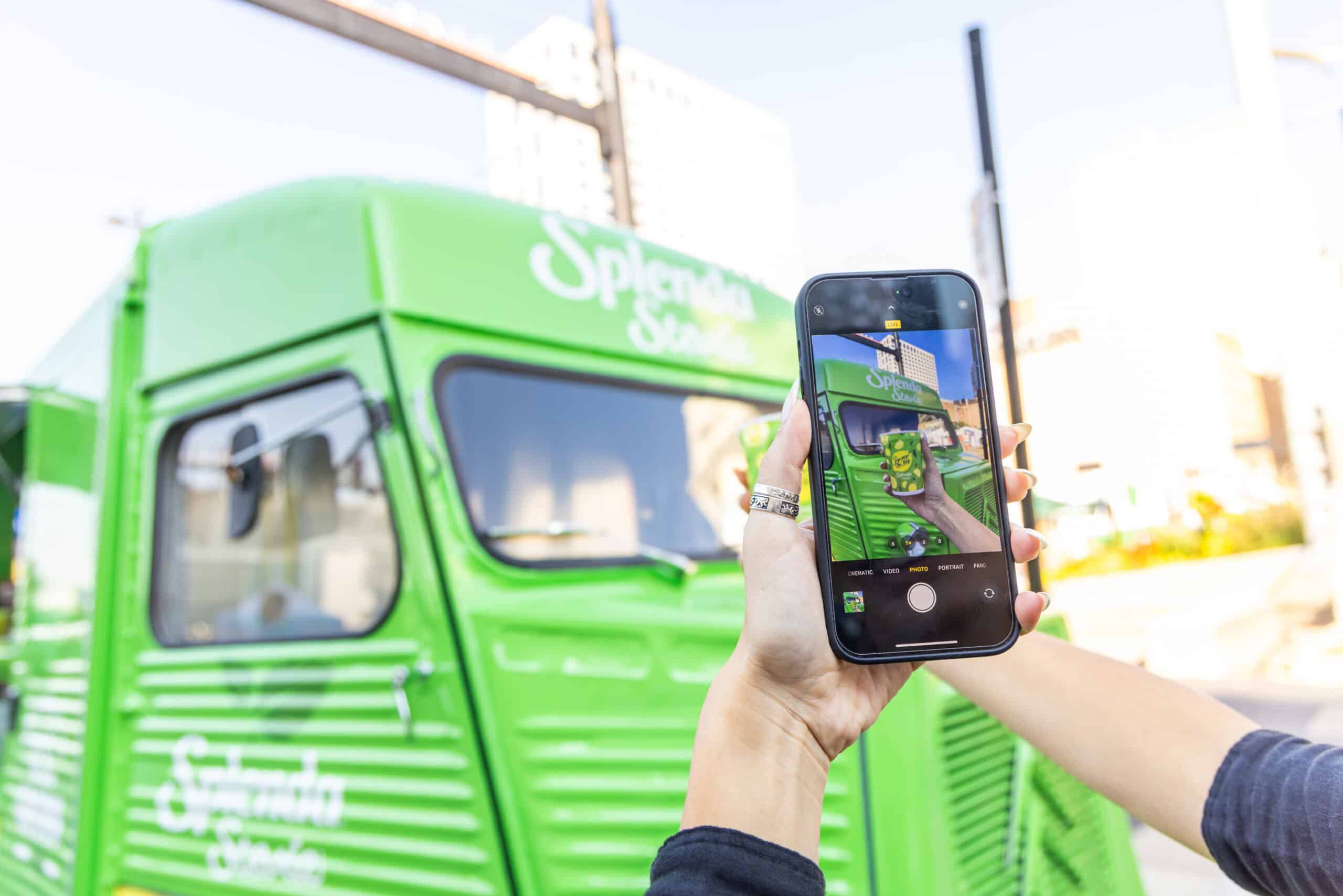 Why UGC is a Key to Successful Modern Marketing If you are interested in modern marketing, you already know that the advertising world has dramatically
READ MORE »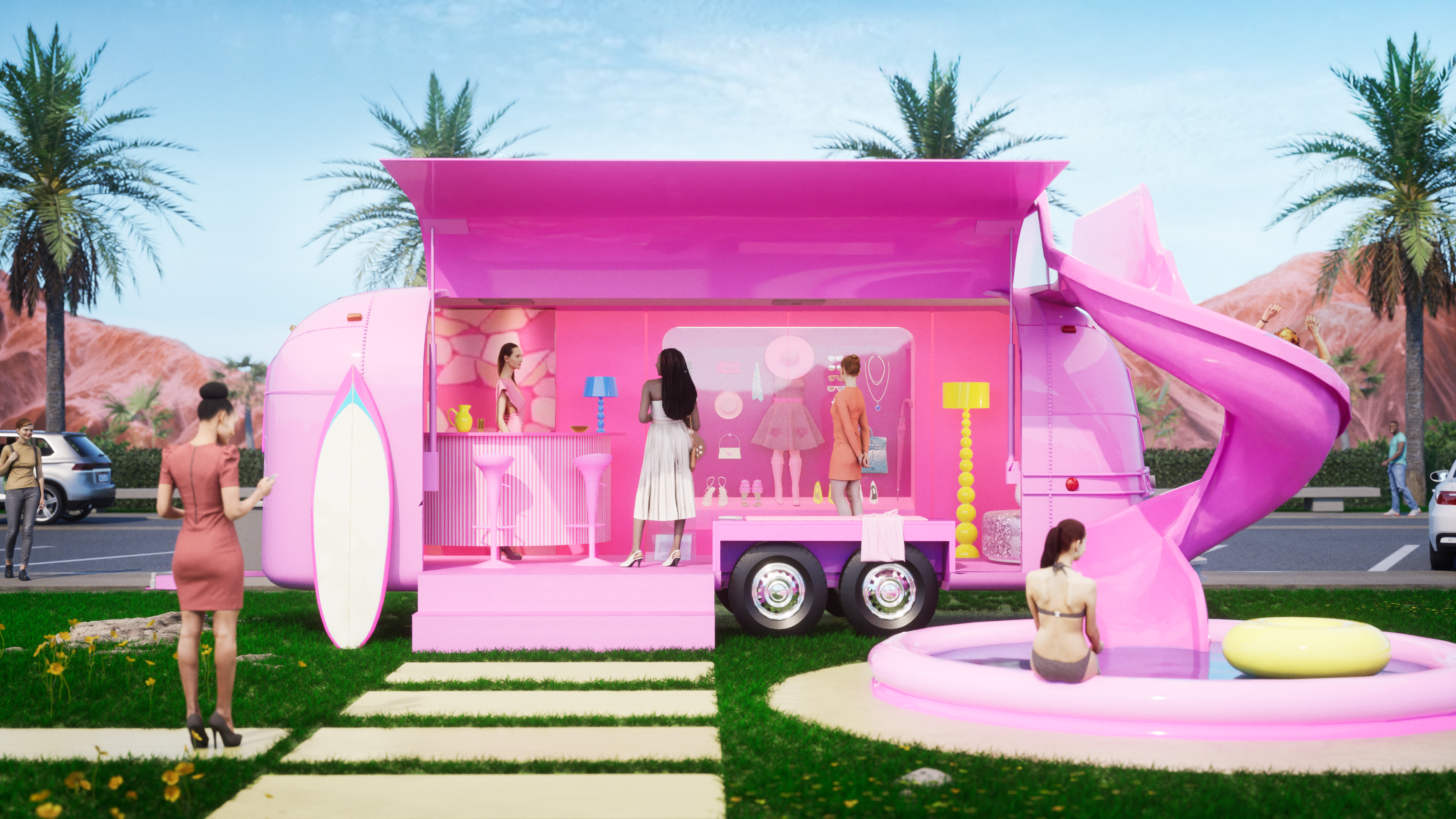 There's no doubt about it — Barbie is back. Everyone's favorite childhood dream girl is hitting the big screen on July 21, and the hype
READ MORE »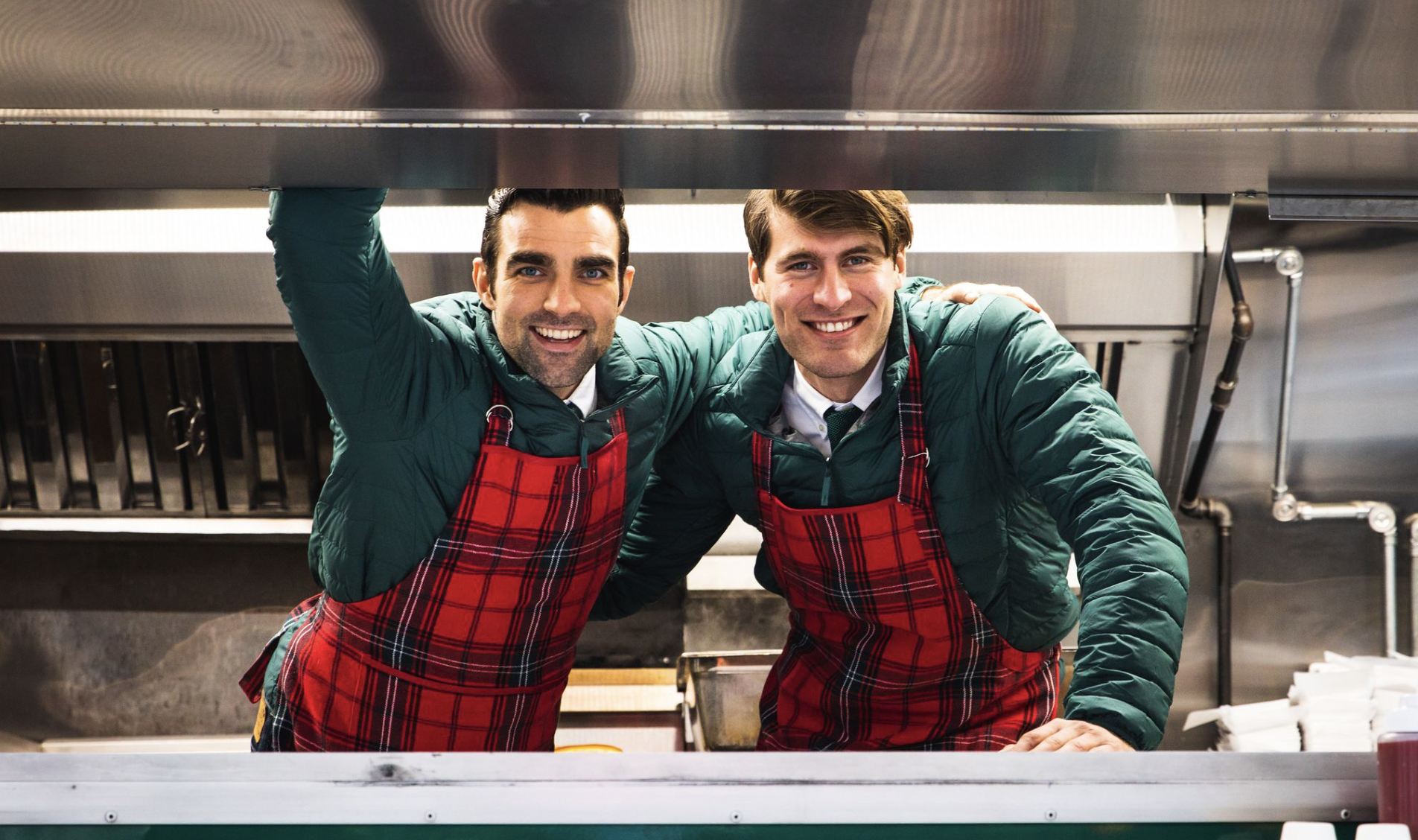 CONTENTS Move over, moms— it's time for Dads to take the spotlight. This Father's Day, don't miss out on the opportunity to boost your sales
READ MORE »