Whether your retail business is just starting, or it's in the process of growing, you may find that mobile retail stores offer benefits that brick and mortar stores don't— and there's a few reasons this is true. 
In this blog, we will discuss the emergence of mobile retail store trucks, list their different uses, and look at some real life examples of mobile retail that will give you inspiration. Even if you've never considered mobile retail before, all entrepreneurs should keep reading to can find out why this kind of business can be so successful.
Mobile Retail as a Marketing Campaign
Mobile retail can be a permanent option for your business, or it can be a temporary, creative way for you to market your brand and drive traffic to your brick and mortar store location.
In other words, rather than opening a permanent store location from somewhere transportable like a food truck, van, or cart, you also have the option of opening a limited-time pop up as a marketing effort that helps your business gain exposure. 
Especially during the first waves of the pandemic, bringing consumers to an outside, COVID safe location offered an interactive marketing experience that consumers had been missing for months, making it that much more impactful.  
Even now, things like branded food trucks offer an opportunity to create an immersive experience that can be really impactful for your brand.
Mobile Retail Truck Examples
Below are some specific examples of mobile retail trucks, both permanent mobile businesses and temporary experiential marketing ventures.
Adidas celebrated the launch of their P.O.D. System sneaker line with a branded mobile kitchen pop up in the heart of Times Square. Guests who made not only were treated to Baohaus cuisine, but also had the opportunity to buy their own pair of P.O.Ds. vokes an emotional response and positive affiliations that are beneficial to the company at large. 
Few names are as iconic as Chanel. We partnered with the high-end fashion brand to bring their store to the streets of New York City for a guerrilla marketing campaign that played into their brand's staple red color. Combining social media and in-person views, the branded tuk tuk gained over 5 million impressions, all by serving something as simple as Hot Cocoa. That's the power of mobile marketing.
After different guerrilla campaigns from 2017 to 2019, the iconic vintage Citroen coffee truck became a hallmark of the designer coffee brand. The original Ralph's Coffee truck was such a popular hit that Ralph Lauren has replicated it and opened a permanent Ralph's Coffee mobile coffee shop located at Rockefeller plaza.
Based out of Charleston, South Carolina, GoGo Books book truck sells children's literature out of a mobile retail truck. The business came about after the pandemic closures, allured by the low-cost and flexibility that a mobile business offers. Unlike the other examples before, GoGo Books doesn't use its truck as a marketing effort aside from their brick and mortar store. This is a permanent business that reaps the benefits of no rent, high exposure, and more. 
How to Start a Mobile Retail Store Truck
The good news is that starting a permanent mobile business involves significantly less startup money than a brick and mortar store. However, there are still significant costs you'll need to account for, such as vehicle acquisition and renovation, necessary mobile retail truck permits and licenses, and other operational costs you'll need to get going. 
And like any business, you'll face ongoing costs, like ordering new stock. However, according to business owners in the mobile space, it seems that the most expensive cost of a mobile retail store truck is keeping the vehicle on the road: gas, oil changes, new tires, a parking spot, etc. 
The benefits of a mobile shop are plenty, but of course, it comes with its own challenges— challenges that you can easily overcome with the right information and tools! 
Why Mobile Retail Truck Marketing Works
Mobile retail truck marketing includes everything from experiential marketing showrooms to mobile boutiques and pop up shops. The ability of these types of storefronts to move to event locations and areas in their city with more foot traffic increases the likelihood of bringing in a new first-time customer or demographic.
This marketing approach is so impactful because it provides businesses a fast and flexible solution to promote their brand without being limited to one location, giving brands the opportunity to do everything from build engagement, test new markets and products, build buzz and awareness, and boost visibility and sales. Entrepreneurs understand the need to reach new audiences, but achieving this in person can be difficult without some level of mobility.
Mobile Retail Trucks vs Brick and Mortar Stores
The term "brick-and-mortar" refers to a traditional street-side business that offers goods and services to its customers in an office or store that the business owns or rents. Most businesses are brick and mortar— your local grocery store, nail salon, and corner bank are examples of brick-and-mortar companies, for example.
On the other hand, a mobile business or mobile retail truck is exactly what it sounds like: a business that is mobile, allowing you to travel to provide your products and services to your customers in different locations.
As mentioned before, for owners of mobile retail stores, this model offers versatility, adaptability, and flexibility to remain in operation with low overhead cost.
With food trucks being so successful, the "fashion truck" concept came not long after, with owners hoping that this kind of alternative to brick and mortar would follow the success of regular food trucks.
Not only is "mobile fashion" an alternative to brick and mortar clothing stores, it's also an alternative to e-commerce, which has gained popularity in recent years. By offering people the opportunity to shop in different kind of vehicles (a food cart, an airstream, a concession trailer, etc.), you're sure to be staying at the forefront of the latest business ideas.
Pair Your Mobile Retail Campaign with Social Media Marketing
As impactful as in-person marketing experiences are, a successful marketing campaign wouldn't be complete without social media marketing.
Without much conscious effort, these kinds of creative, experiential events that mobile retail stores on wheels offer make excellent photo-ops and Instagrammable moments that organically bring awareness to the digital space. 
In addition to this organic coverage, however, adding your own social media marketing can be that extra touch that brings your promotion to the next level. Hire photographers and videographers or capture your own content for your social channels!
Looking Forward & Wrapping Up
Hopefully this article has given you more information about:  1) what a mobile retail store is 2) why they're worthwhile business options and 3) how they can be used for marketing purposes as much as they can be for a permanent business. 
To learn more about the marketing side of mobile retail, visit our website and learn more about what's possible as far as mobile marketing!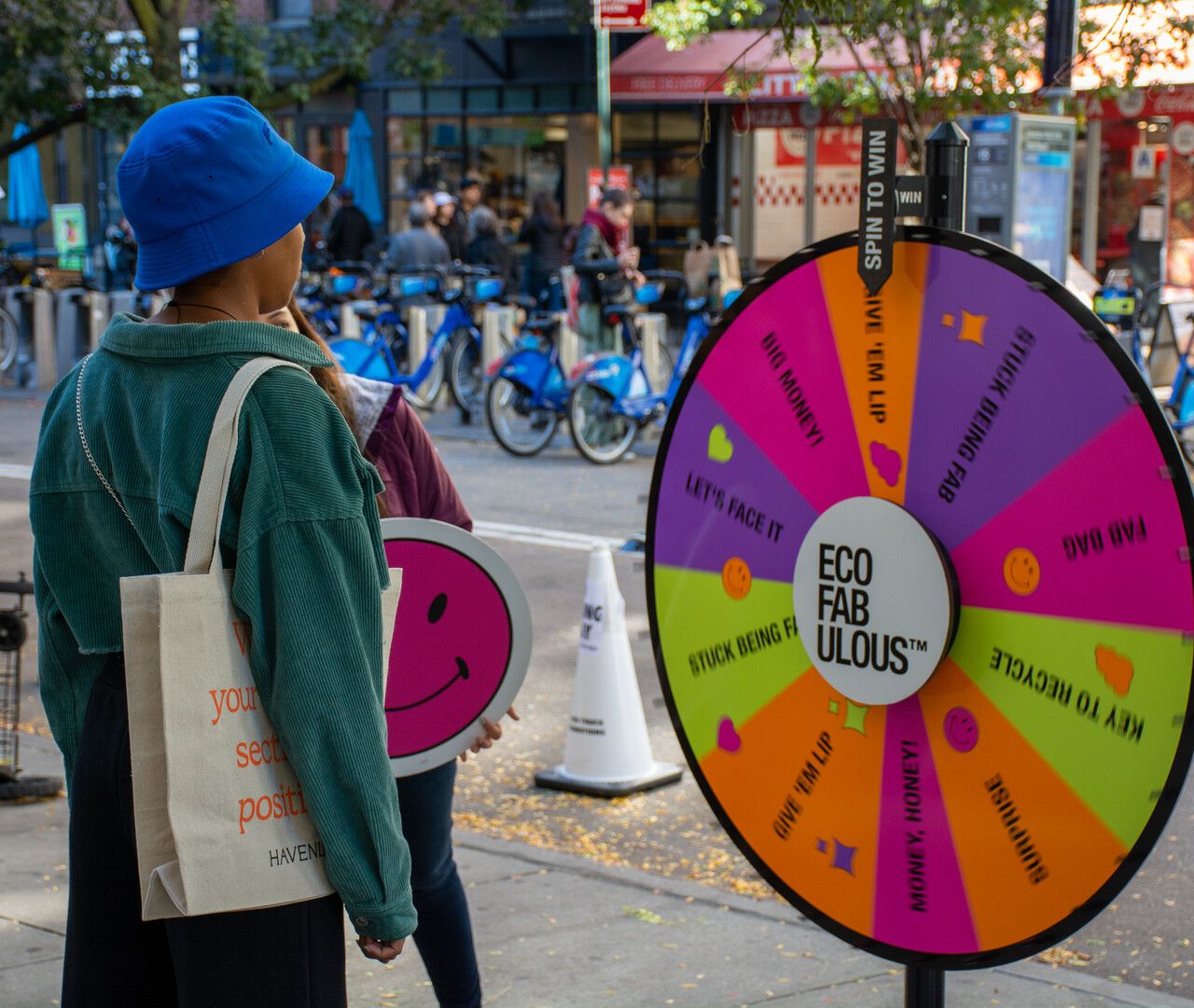 Music festivals are a great place to grow brand awareness and reach your audience. Read more on producing successful brand activations
Read More